Please note that the below timetable is for the public boat service only. Our staff at Cape Kudu Hospitality Lounge will accompany you to your boat.
ตารางเวลาด้านล่างเป็นเพียงการแจ้งบริการเรือแบบสาธารณะเท่านั้น พนักงานของเราจะให้บริการที่ Cape Kudu Hospitality Lounge และนำคุณไปยังเรือที่คุณได้สำรองที่นั่งไว้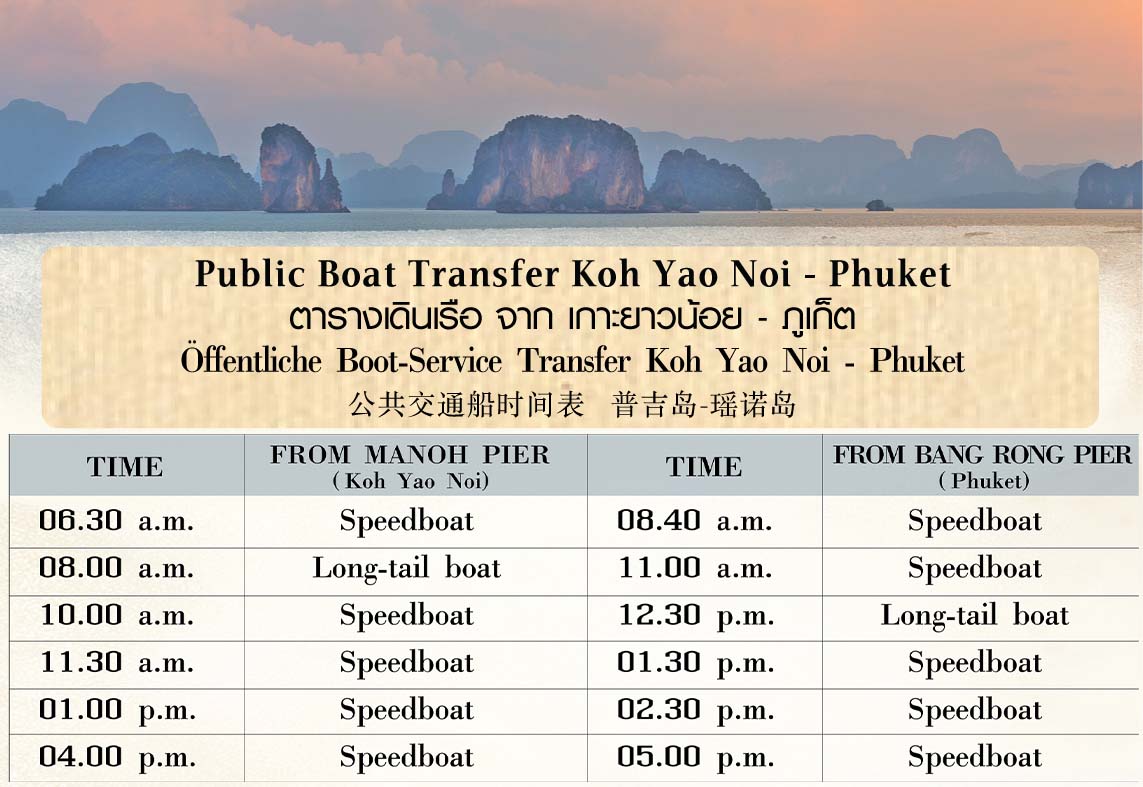 ** Should you require a private speedboat charter, please contact the hotel direct for further information Boat schedule is subject to change without prior notice.
If you plan to travel in a group of 6 to 8 during public holidays we advise you to arrive early to secure a seat. Alternatively, you could book a long-tailed boat or a speedboat independently. Please contact Cape Kudu Hotel to let us know of your plans.
**ผู้โดยสารทุกคนต้องใส่แมสก์ลงเรือทุกคนค่ะ
**ในกรณีต้องการสำรองเรือเร็วแบบส่วนตัว กรุณาติดต่อโดยตรงกับทางโรงแรม ตารางเดินเรืออาจมีการเปลี่ยนแปลงตามสภาพอากาศโดยไม่ต้องแจ้งให้ทราบล่วงหน้า หากคุณวางแผนที่จะเดินทางเป็นกลุ่ม 6-8 คน ในช่วงวันหยุดหรือวันนักขัตฤกษ์ ขอแนะนำให้มาถึงก่อนเวลาเพื่อสำรองที่นั่ง หรือสามารถจองเรือหางยาวหรือเรือเร็วได้ด้วยตนเอง โดยติดต่อโรงแรม เคปกูดู เพื่อแจ้งให้เราทราบถึงกำหนดการของท่าน
**Sollten Sie einen privaten Speedboot benötigen, kontaktieren Sie bitte das Hotel für weitere Informationen. Der Fahrplan kann ohne vorherige Ankündigung geändert werden. Wenn Sie an Feiertagen mit einer Gruppe von 6 bis 8 Personen reisen möchten, empfehlen wir Ihnen, früh anzukommen, um einen Sitzplatz zu sichern. Alternativ können Sie ein long-tailed boot oder ein Speedboot buchen. Bitte kontaktieren Sie das Cape Kudu Hotel, um uns Ihre Pläne mitzuteilen.
**乘客必须佩戴口罩
**如需私人快艇服务,请直接联系酒店,以获取更多信息 公共交通船时间表如有改动,恕不另行通知
**若6-8人的小团在公共假日出行,建议您提前与酒店联系,并提前到达码头进行预订,或自行预订长尾船及快艇
25/54, 25/55 Moo 5, T.Koh Yao Noi, A.Koh Yao, Phang Nga 82160, Thailand
Tel: +66 76 592 600 Email: reservations@capekuduhotel.com
Website: www.capekuduhotel.com