There's nothing quite like arriving at a luxurious hotel and being surrounded by a sophisticated atmosphere. Your eyes wander all around as you soak in the glorious view of the architectural wonder that embraces you. But that awe-struck feeling is fleeting. In most cases, you lose interest in the decadent ambience as soon as you turn on the TV and forget all about the beauty around you.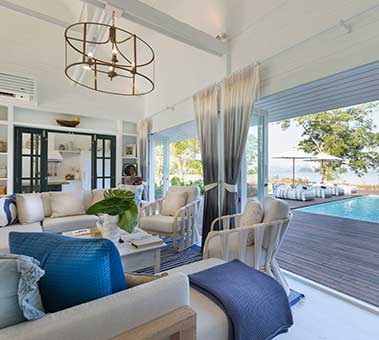 "Feeling at home"
just took on a whole new meaning
Baan Yu Yen at Cape Kudu Hotel is not your typical two-bedroom pool villa. In fact, it's not so much a "villa" as it is a fully furnished abode that feels l uxuriously...livable. In other words, your own actual holiday home: 1,315 square-metres of familiar comforts-think books, toys, charmingly mismatched crockery-all to your loved ones and yourself. This home-away-from-home consists of two annexes, each with their own double bedrooms, linked by an open terrace. Each annex has its own restroom, bathroom and yes, private pool (that's not one, but two pools on the property). Additionally, the main villa boasts a 25 square-metre fully equipped kitchen area and a generously appointed living area.