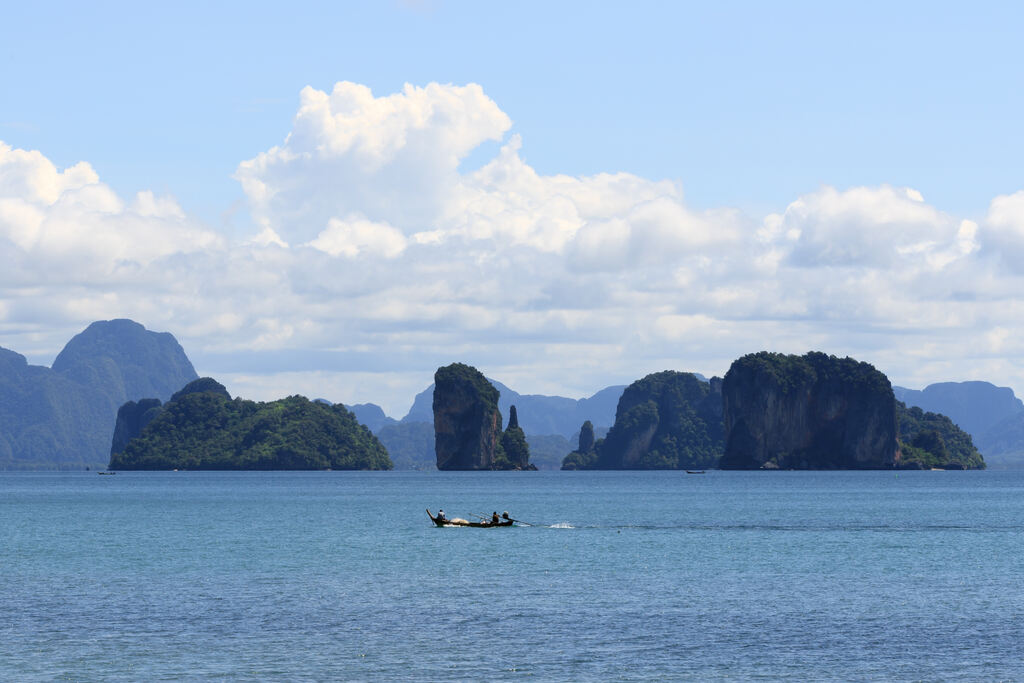 Koh Yao Noi is the second largest island in beautiful Phang Nga Bay. It lies just north of Koh Yao Yai, the largest island in the bay. Koh Yao Noi is the perfect destination for travellers who want to experience this world-famous bay's natural splendour and beauty without the neon lights and constant blaring music that typify much of Thailand's nightlife. The bars and restaurants in Koh Yao Noi that make up much of the island's nightlife have their own colour and unique charm.
Exploring Phang Nga Bay
Travellers to Phang Nga Bay couldn't pick a better destination than the Cape Kudu Hotel on Koh Yao Noi. The island of Koh Yao Noi is located almost in the centre of the bay, meaning every other island worth visiting is just a short boat ride away. This makes it a convenient and comfortable location to explore the bay.
We provide tours of the bay aboard our own Kudu Wanderer motor cruiser and a spectacular sunset cruise. We also offer a tour of four of the closest islands aboard a traditional long-tail boat. The warm and tranquil waters around these islands are teeming with colourful, tropical sea life and are perfect for swimming and snorkelling. You can also chart your own course and head off to explore the islands aboard a luxurious private speedboat.
We can also arrange for kayaking trips in Phang Nga Bay. These trips are popular as they allow you to explore the caves, grottos, and turquoise lagoons that have made this part of the world a prime destination for filmmakers for decades.
You'll visit the islands made world-famous as movie backdrops, including Panak Island, Koh Hong, Khao Phing Kan, and, of course, the iconic James Bond Island.
Discover the Beauty of Koh Yao Noi
Although Phang Nga Bay is spectacular, you should also reserve some time to discover the beauty and unique way of life in Koh Yao Noi. Thailand is renowned for its rich history of marine farming, and there's a fish farm and oyster farm on our island that welcome guests and show them how this ancient practice is done. You'll also get to sample some of the freshest oysters you've ever eaten.
The island has a number of small fishing villages and rubber plantations, so a visit to Koh Yao Noi can be like a trip back in time to see a simpler lifestyle and the peace and well-being it offers the islanders.
The island also has several mangrove forests, which are excellent areas to birdwatch. Take a kayaking trip through the mangroves, and you'll likely spot White-bellied Sea-eagles, Mangrove Whistlers, Kingfishers, and exotic-looking Hornbills.
Enjoy the Quiet Nightlife of Koh Yao Noi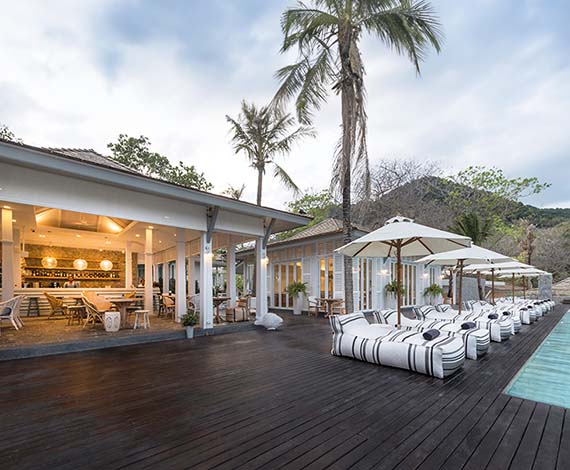 At the end of a fun day touring Koh Yao Noi, there's still more in store for you. Head down to the island's Lamsai Pier and step aboard our sleek sailing yacht called Kantus' Bride.
Enjoy a sunset cruise through the Koh Nok and Koh Hang areas. It's the perfect trip for a couple or a group of friends to end a day in paradise.
When you return to the island, get ready to enjoy an evening of great food, fine wines or cocktails, and the company of friends, family and other travellers staying at the Cape Kudu Hotel.
The first stop is the Hornbill Restaurant. This traditional and rustic restaurant provides a panoramic view of Phang Nga Bay from your table beside the pool. Enjoy exquisite Thai and fusion cuisine under the stars while you trade stories of your travels around Thailand.
When dinner is finished, but the conversation is just getting started, head over to the Long Island Bar and claim a picturesque spot on the veranda beside the pool.
The Long Island Bar is one of the most lively bars on Koh Yao Noi and provides an excellent finale for your island adventure. With an extensive wine list, signature cocktails, beer, and a full range of soft drinks and fruit juices, the bar provides everything you need to toast to another perfect day in paradise.
Book Your Next Holiday at the Cape Kudu Hotel
Plan a romantic getaway to the majestic beauty of Phang Nga Bay by booking a luxurious and exclusive stay at the beautiful Cape Kudu Hotel on Koh Yao Noi.